fabricating quality equipment
We have been manufacturing quality industrial equipment in the UAE since 1980 and have hundreds of satisfied customers throughout UAE, the Middle East and Africa which is a testament to our dedication to quality and commitment in our manufacturing practices.                                                                                                                                          ….Read More
PIPE SUPPORT SYSTEMS
Pipe Supports Racks Saddles Shoes Clamps Hold Downs,  Pipe Guides Pipe Hangers Brackets Stands, Pipe Rigging Rollers Beam Clamp Rollers, Puddle Flanges Pipe Reducer, Anti-Vortex Plates Vortex Inhibitors, Vessel Saddles, Pump Skids  
MATERIAL HANDLING AND STORAGE
Steel Pallets Stackable Steel Pallets, Steel Pallet Converters,  Flat Steel Pallets, Rack Pallets, Post Pallets,  Steel Stillages  Bins and Containers  Stillage Boxes  Wire Mesh Cages, Gas Quads Gas Cylinder Cages.
WASTE SKIPS AND GARBAGE CONTAINERS:- 1, 2 CBM Skips – 3, 4 and 5 CBM Waste Skips  7, 8, 10 and 12 CBM Waste Skips 16, 18, 20 CBM Waste Containers  Muck Skips Boat skips  Crane Pans  Crane Skips  De-watering Skips
SELF DUMPING HOPPERS
1 CBM  1.5 CBM  2 CBM  2.5 CBM  3 CBM Self Dumping Hoppers, Custom 4 and 5 CBM Bulk Material Hoppers, Dust Collection Hoppers,  Sludge Collection Hoppers,  Waste Water Filtering Hoppers,  De-watering Hoppers,  Scrap Segregation Hoppers and  Waste Handling Hoppers. Stainless Steel Self Dumping Hoppers for Food and Chemical Industries.
OUR FABRICATIONS
Water Tank Towers,  Tank Towers Light and Medium Structural Steel Fabrication, Misc Steel Work Packages Steel Fabrication Subcontracts, Solar Panel Mounting Structures, Solar Battery Boxes, Fabrication of Louvres  Steel & Stainless Steel Facades, Walkways  Handrails and Stairs, Landings and Platforms, Crossover Steps and Temporary Pedestrian Vehicular Bridges, Canopies Sun Shades Skylights,  Conveyor Rollers  Conveyor Tables   Mooring Rings, Bitts, Cleats and Bollards, Safety Bollards, Forklift Attachments, Crane Attachments, Custom steel fabrication
We are a specialist Pipe Support Systems manufacturer. 1000's of tons of pipe racks, pipe supports, pipe hangers, pipe clamps and pipe saddles have been fabricated, delivered and installed for some of the most prestigious civil and mechanical contractors in the UAE. Fabricated pipe support systems and racking is manufactured to the required industry standards. Complete design and fabrication service offered to our customers.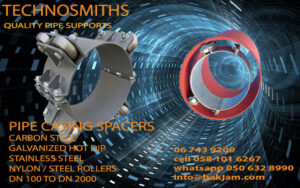 material handling and storage
 we manufacture RHINO Brand material handling and storage equipment that is serving our customers throughout the middle east. our stackable steel pallets and stillages, wire baskets and bins and steel containers serves a wide range of industrial storage requirements. as a local manufacturer we offer clear advantages in design flexibility and costing. we can infinitely customize our products.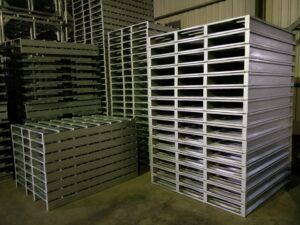 waste skips and garbage containers
We manufacture waste skips and garbage containers for the waste collection establishments as well as large industrial units and commercial entities in the middle east.  Our waste skips are built to last a lifetime.   3, 5, 7, 8, 10 and 12 CBM Waste Skips are our more common industrial application sizes whereas  16, 18 and 20 CBM Waste Containers are manufactured for the waste collection Companies. We also manufacture Muck Skips, Boat skips,  Crane Pans,  Crane Skips  and De-watering Skips.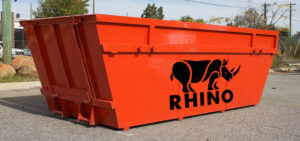 We manufacture World Class Self Dumping Hoppers under our Brand Rhino. The fact that Borouge in Abu Dhabi is using more than 225 of our Rhino Self Dumpers and Contractors like Six Construct, Euro Tiles, Creative Closets,  Emal,  Advanced Prisms and scores of other industries in UAE, Saudi Arabia, Oman, Qatar, Bahrain, Kuwait, Jordan etc is a Testament to our Quality and position as the Leaders in the field. 
Further Information: www.rhinoselfdumpers.com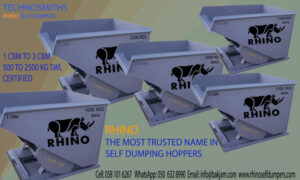 Procurement of steel & material is carried out from the local as well the international makes. Quality steel is procured from reliable steel suppliers in strict adherence to specifications laid down in the tender documents. Mill test certificates are obtained for all purchases and, where called for, materials are tested by the third party labs for verifications. Our procurement department is capable of arranging large quantity of steel and materials on short notices.
Fabrication is carried out in accordance with the specifications & procedures laid down in the tender documents. Our teams of highly trained & motivated fabricators and welders are capable of handling all sorts of structural & industrial fabrication works on thousands of tons of steel for some of the most prestigious projects in Dubai & Abu-Dhabi. From design to drawings & from submittals of work procedures, mock ups, approvals & from fabrication and installation at site to as built drawings, we offer a complete fabrication & erection service to our customers.
As per specification in the contract documents the fabricated steel is either hot dip galvanized to BS729 or painted to approved color. For fabricated steel all sharp edges, burrs and weldments are ground off to a smooth finish. Steel is shot blasted to SA2.5 and cleaned with high pressure air blast prior to being hot dipped galvanize. After galvanizing all splash is ground off and dressing, if required, is done by spraying galvafroid. Depending on the environment where fabricated steel to be erected, hot dip galvanizing is carried out to achieve 70-100 micron of zinc coating.
We have experience of erecting fabricated steel in all sort of environments; From several hundred feet high to underground tunnels we have achieved remarkable success in erecting fabricated steel in difficult to work conditions. Erecting steel at the JBR, the Dubai Metro, the Abu Dhabi Marina circuit, Burj Khalifa and the Sowha Island are our crown achievements. We are willing and ready to accept the next challenging assignment.
Our client base is spread throughout the U.A.E and the MENA region. We serve some of the most prestigious civil works contractors in our region and are proud of their trust in us.